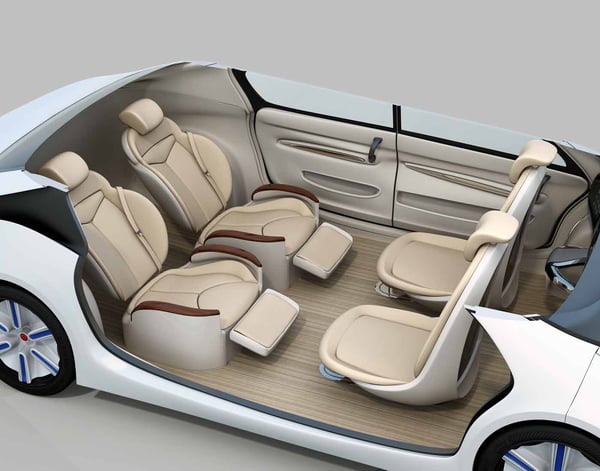 Style and comfort are integral to car design. In an age when self-driving automobiles are close to being perfected and mass-produced, designers put a premium on user experience, making interior and automotive seating innovations their priorities.
Some of the remarkable developments in carmaking include climate-controlled seats. While the science behind heated and cooled chairs was presented as early as the 1800s, it's only in recent years that they were made possible and are now enjoyed by car owners.
Another improvement is the integration of massage into vehicle seats. They're beneficial to drivers and passengers alike, especially those who take long road trips. Needless to say, massage chairs help improve blood circulation, relieve back pain, and reduce stress.
More Seating Innovations
With the current technology, the possibilities of developing smart seating systems are endless. The challenge of enhancing user experience and meeting the demands of modern life also pushes developers, manufacturers, and entrepreneurs to satisfy the needs of customers.
Keeping up with the ever-evolving technology can be exhausting but with these advancements, solutions we thought were impossible before are turning into reality. Take for instance the following seating ideas that will be available widely before we know it.
Reconfigurable Seats - It's a wise use of car space if chairs can be rearranged instead of how we're accustomed to them now, fixed in place. With a smart device, seats can be swiveled to allow social interaction, or folded and stowed to free up space.
Imagine going on road trips with family and friends. It'll be a more fun and memorable journey if passengers can face each other and talk like they're in their living room. If a group travels with small children or people with special needs, they can easily attend to them in the car.
Having business meetings inside a vehicle will also be convenient. Sometimes, discussing agendas with colleagues or clients while traveling is inevitable if there's an urgent need for it or if they want to maximize time spent on the road.
Most of these new car models are built like an office, complete with an infotainment system that has voice command. These new developments will definitely redefine how people view work and play.
Transporting goods will be a smooth experience as well if the seats are adjustable and flexible so that they can be kept to make the car's floor spacious. A flat surface allows easy access to more space when carrying cargoes instead of passengers.
Seats with Integrated Features - Drowsiness, fatigue, and medical conditions, to name a few, limit humans' abilities to driving safely. In fact, these limitations contribute to the rationale of building autonomous vehicles.
As more innovations are introduced to make driverless cars ready for the public, traditional vehicles benefit from those programs. These cars aren't only built with added safety and comfort but for entertainment as well.
Nowadays, people can access vehicles with seats they can command to give them a distraction when they feel sleepy, provide them with a massage when they need to relax, or adjust the ventilation and heating to feel comfortable.
What's more, these smart seats can be built as recliners to allow drivers to lie down while driving. They also come with back support to lessen pain caused by sitting for a long time and side bolsters that will keep occupants in place when there's a turn on a sharp road.
For people who are always on the go or spend a lot of time in their cars, these luxurious and multifaceted chairs are no doubt a godsend to them. It's like having their own mobile spa and wellness center.
Intelligent Seating - Self-care is given emphasis now more than ever. In order to build cars that offer maximum safety and keep the occupants healthy, automakers need to work closely with ergonomics and health professionals when designing their vehicles.
Using sensors in cars to reposition seats and avoid a damaging impact in case of a crash; detect the physical and mental well-being of a driver and passengers, or alert occupants to a medical emergency is already happening in our time.
These sensors measure health statuses, such as the heart rate and stress levels, and facilitate adjustments to fit the personal preferences of occupants if not what's best for them based on their sitting position and condition.
Driving can be a stressful activity that sometimes leads to anxiety, road rage, or health problems. People who have chronic back pain or underlying conditions are especially vulnerable and need assistance while driving.
This intelligent seating system will hopefully help bridge gaps in everyday life to foster balance and wellness. It's nothing short of mind-blowing to find a car that's packed with all the comfort and convenience known in the automotive industry today.
Assuring the Quality of Automotive Seats
Product development involves a series of processes that should be followed through meticulously, especially if the item being developed has a role in keeping users safe, such as an automotive seating system.
When choosing a manufacturer that will give life to your vehicle seating project, consider one that has a complete program, from conceptualization to production. Not only that, the company should also have the trust of its clients because its products are proven to be effective.
In addition, it's imperative that the manufacturer follows industry standards and has the required certification and accreditation. Compliance with the rules of governing bodies ensures accountability and credibility. It speaks as well to the company's commitment to quality.
Seating Innovations: Always Ready for the Future
Our technology and capabilities at RCO Engineering prepare us to thrive in the intelligence and experience economies. Since the 1970s, we have been providing prototyping and product development services for leading brands in the automotive industry.
We're known for our expertise in manufacturing seats but as our clients' needs grew, we started offering more services and became a one-stop shop for various products. We've also diversified our services to support other sectors like the defense and aerospace industries.
If you're looking for an end-to-end seat service provider, work with us today! We aim not only to fulfill your requirements and help meet your challenges, but also to translate your vision into reality.