As technology advances, the aerospace industry is becoming more and more important. With new advancements in space exploration and aircraft design, the need for qualified workers in aerospace manufacturing is greater than ever.
If you're looking for a career that will be in high demand for years to come, consider an aerospace manufacturing corporation career! In this blog post, we'll discuss some of the jobs that will be critical in the aerospace industry in the years to come.
What is Aerospace Manufacturing?
Aerospace manufacturing refers to the construction of aircraft, spacecraft, and their associated parts. The aerospace industry is a high-technology industry that employs skilled workers in a variety of disciplines.
Aerospace manufacturing company jobs are critical to the success of the aerospace industry. These jobs include designing, building, testing, and maintaining aircraft, aircraft parts, missiles, rockets, and spacecraft.
Aerospace jobs are important because they contribute to the development and innovation of new technologies. They also play a key role in the economy, providing jobs for millions of people around the world.
What Are the Jobs In Aerospace Manufacturing?
There are many different jobs in aerospace manufacturing. Some of these jobs include:
Aircraft design engineer

Aerospace engineer

Flight test engineer

Manufacturing engineer

Quality assurance engineer

Research and development engineer

Entry-level aerospace manufacturing technician

Aircraft mechanics and service technicians

Avionics technicians

Airframe and powerplant mechanics
Each aerospace engineer has a different job, but all jobs are important in the development of new aircraft and spacecraft.
Who Should Work in Aerospace Manufacturing?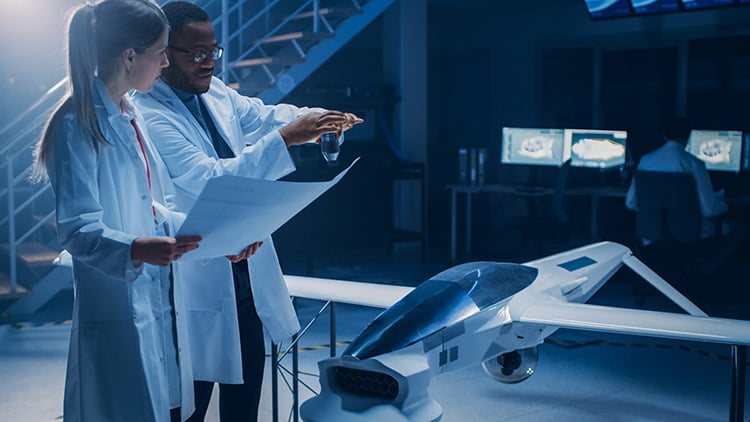 Aerospace manufacturing jobs are perfect for people who are interested in working with their hands, as well as their minds. Those with an interest in engineering, technology, and science will find many jobs in aerospace manufacturing that match their skills.
5 of the Most Important Jobs in Aerospace Manufacturing
If you're interested in a career in aerospace manufacturing, here are x of the most important jobs on the market right now.
1. Aerospace Engineers
Aerospace engineers are responsible for designing, testing, and supervising the production of aircraft and spacecraft components. They work with other engineers and scientists to design and develop new technologies for use in aviation, space exploration, and defense systems.
These professionals typically have a bachelor's degree in aerospace engineering or a related field. Many also hold advanced degrees.
Typical tasks for an aerospace engineer include developing new designs for aircraft and spacecraft, conducting research on aerodynamic properties, and supervising the production of these products. Aerospace engineers typically work in office settings, but they may also travel to manufacturing plants or test sites.
Aerospace engineering is a highly technical field that offers many challenges and opportunities for those who are interested in designing and developing new technologies for aviation and space exploration. There is a great demand for qualified aerospace engineers, especially in the commercial aviation sector.
2. Aircraft Mechanics and Service Technicians
In order for airplanes to fly safely, they must have reliable parts and receive regular maintenance. This is where aircraft and avionics equipment mechanics and technicians come in. Their job is to perform scheduled maintenance, make repairs, and complete inspections on airplanes according to detailed regulations set by the Federal Aviation Administration (FAA).
Aircraft mechanics and service technicians perform a variety of tasks, such as inspecting engines, troubleshooting problems, and replacing parts. Mechanics and technicians typically work in hangars, repair stations, or on the flight line. They may be exposed to noise from engines and other machinery, and they may work in cramped spaces. Some jobs may require a security clearance.
3. Avionics Technicians
Avionics technicians install, maintain, and repair the electronic systems used in aircraft. These systems include communications, navigation, the display and management of aircraft data, weather mapping, and guidance.
Most avionics technicians work full-time in hangars or repair stations at airports. Many work shifts that include evenings, weekends, and holidays because aircraft are often operated around the clock. Some jobs may require a security clearance.
This is a specialized career with a focus on keeping aircraft's electronic systems running smoothly and correctly. As the aerospace manufacturing industry moves further towards digital technologies, avionics technicians will become increasingly valuable.
4. Airframe and Powerplant Mechanics
Airframe mechanics assemble, disassemble, and repair structural parts of an aircraft. Powerplant mechanics maintain and repair engines. People in this career are certified generalist mechanics who are adept at working on many different parts of an aircraft. They often work in hangars or on airfields and may be responsible for performing routine maintenance tasks as well as major repairs.
Because of their broad skillset, airframe and powerplant mechanics are in high demand in the aerospace manufacturing industry. A&P mechanics play an essential role in keeping aircraft operational by inspecting and repairing various parts of the planes, ranging from the engines to the landing gear.
5. Entry-Level Aerospace Manufacturing Technician
Aerospace manufacturing technicians are responsible for the construction and assembly of aircraft and spacecraft. They work in factories or assembly plants, using tools and machines to put together various parts of an aircraft according to blueprints and other specifications.
Aerospace manufacturing technicians must have a strong understanding of how different aircraft components fit together, as well as knowledge of safety procedures and quality control standards. General tasks include assisting aerospace engineers in preparing equipment drawings and diagrams, collecting data, and performing laboratory tests, as well as working on various projects involving aerodynamics, structural design, flight-test evaluation, or propulsion problems.
Most entry-level jobs in aerospace manufacturing require a high school diploma or equivalent, although some jobs may require postsecondary education or vocational training. Those interested in pursuing a career in aerospace manufacturing should take classes in mathematics, physics, computer-aided design and drafting, and machining.
Is Aerospace a Good Career?
Aerospace engineering jobs are expected to grow by 6% from 2021 to 2031, with more than 3,800 jobs opening up each year on average. The median annual salary for aerospace engineers was $122,270 in 2022.
A career in aerospace engineering can be both exciting and rewarding. Aerospace engineers get to work on some of the most cutting-edge technologies and projects, such as designing new aircraft or developing new propulsion systems.

If you're interested in jobs in aerospace engineering, why not learn from the best? Work with professional manufacturers today!