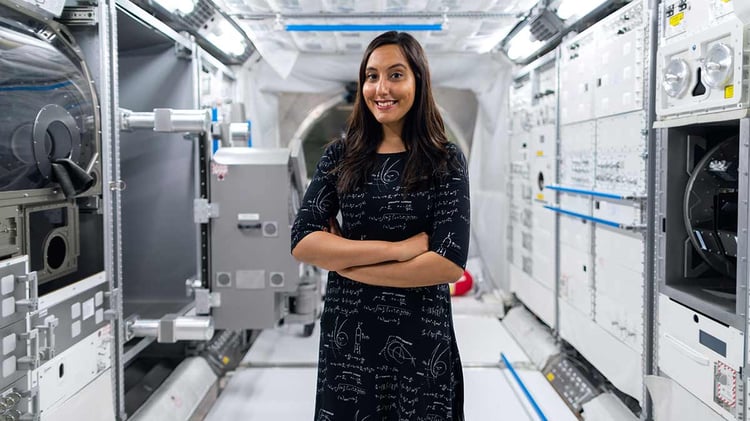 Back in 1945, women made up 40% of Michigan's aerospace careers. And Detroit being the innovative and progressive city that it is, proudly employed many of these women through the production of the B-24 bomber that lead to Detroit saving the world during World War 2.
However, 75 years later, women now only make up 13% of aerospace careers. With Michigan's aerospace cluster being a $7 billion dollar industry spanning across 450 companies and 30,000 employees working directly with global aerospace OEM's and tier ones, it begs the question, where have all the women gone?
Perhaps our industry hasn't done a good job engaging women to join this leading occupation. Or maybe the resources offered haven't been readily available. Thankfully, The Space Rush gives women the opportunity to jump back in the game and change the course of history.
In order to grow diversity and our future, the Aerospace Industry Association of Michigan (AIAM), comprised of 130 members who drive global branding and economic development of Michigan's aerospace cluster, and FIRST in Michigan have joined forces. Together, they'll present Michigan's "Women of Aerospace" to an audience of students, parents, industry stakeholders and government agencies. Moderated by NASA and stacked with two keynote speakers, this presentation is a live panel designed to share the incredible stories of women in Michigan's aerospace pathways and educational pipelines.
It's with hope that this collaboration will inspire the nearly 25,000 students, approximately 35% of which are girls, faced with looming deadlines in the FIRST K-12 STEM platform. Currently through their training, these cross functional teams of students bring over 2,500 new robots to market annually. And as they graduate high school, they do so as veterans of technological cadence. It's no wonder Michigan's amazing universities, colleges, apprenticeship programs and industrial partners are hungry for their passion with purpose. Now it's up to the leaders of the industry to make sure their talent is being seen, fostered and applied.
RCO Engineering recognizes the need for women in the aerospace industry and is excited to help foster opportunities in the job force. This is exactly why we'll also be at this event. We look forward to speaking with all of the talented minds and broadening our own as we discover all of the amazing talent local to Michigan.
The FREE "Women of Aerospace" event is Saturday, May 15th. Be sure to mark your calendars so you don't miss out!
(Guest Post written by RCO's General Manager of Manufacturing Jeff Simek)