In today's global economy, more and more businesses are looking to outsource their manufacturing needs. This can be a great option for companies that don't have the resources or time to handle production in-house. However, not all manufacturers are created equal.
If you're looking to outsource your manufacturing, it's important to choose a supplier that will best suit your company's needs. While overseas manufacturing may seem like a cheap option, there are several reasons why American B2B manufacturers will better suit your company.
In this blog post, we'll discuss the benefits of American B2B manufacturers and why they make the perfect partner for US companies.
What is B2B Manufacturing?
B2B manufacturing is the process of creating products or components that will be used by another business, rather than the end consumer. This includes items such as parts and components, raw materials, and finished goods.
B​2B manufacturing makes up a large portion of the American economy and employs millions of
workers across the country.
What Types of Companies Need B2B Manufacturing?
Companies in the aerospace, defense, and automotive industries all need B​2B manufacturing to create parts for their products.
In addition, companies in the medical device and pharmaceutical industries also rely on B​2B
manufacturers to create components and finished goods.
But that's not all. Many other industries need B​​2B manufacturers to create the products they sell. This includes companies in the food and beverage industry, the retail sector, and more.
Why Choose American B2​B Manufacturers?
There are many reasons why you should consider using B​2B manufacturers based in the United States. Let's run through a few of these reasons below.
1. Quality Control
When you work with an overseas manufacturer, it can be difficult to monitor the quality of your product. With an American B2B manufacturer, you can be sure that your product will be made to the highest standards.
RCO Engineering's projects are held to strict quality control standards, so you can rest assured that your product will meet your expectations.
2. Expert Advice
Additionally, American B2B manufacturers have a wealth of experience and knowledge within the American market. This means that they can offer suggestions and advice on how to improve your product to better suit your target market.
They can also offer guidance on the best manufacturing methods to use to produce a high-quality product. For example, a B2B manufacturer that understands the latest trends in aerospace manufacturing will know exactly what to recommend to produce the best aircraft parts for your company.
3. In-House Capabilities
Many B2B manufacturers in the United States have a wide range of capabilities, so you can find one that offers everything you need under one roof. This is especially helpful if you need to outsource multiple manufacturing processes.
For example, if you need both machining and assembly services, you can find a B2B manufacturer that offers both. This will save you the time and hassle of dealing with multiple suppliers.
4. On-Time Delivery
Oftentimes, B2B manufacturers can also offer shorter lead times than overseas suppliers. This is because they are closer to home and shipping times are shorter.
If you choose overseas manufacturing, you have to factor in time zones, language barriers, and the potential for shipping delays.
With an American B2B manufacturer, you can be sure that your product will be delivered on time and as expected.
5. Flexibility
Working with an American B2B manufacturer generally means more flexibility. This is because they are willing to work with you to create custom products that meet your specific needs.
They can also accommodate smaller orders, which is ideal for companies who are just starting out or testing the market for a new product. RCO Engineering is one of the few American B2B manufacturers that offer low-volume manufacturing services.
6. Cost Savings
While many people think it's cheaper to outsource manufacturing to China, this is not always the case. Wages in China have increased significantly over the past few years, which has made it difficult for companies to maintain the same level of profit margin.
Nowadays, there are plenty of American B2B companies that offer competitive pricing.
Additionally, most B2B manufacturers require a minimum order quantity that is often out of reach for small and medium-sized businesses. But if you choose to work with an American B2B manufacturer, you can negotiate a smaller order quality at a fair cost.
In addition, there are often hidden costs associated with outsourcing manufacturing, such as:
Long wait times for production
Difficulty communicating with manufacturers
Shipping and import fees
Working with an American B2B manufacturer can help you avoid these issues.
7. Reputation
American B2​B manufacturers have a reputation for being reliable and efficient. They will work with you to ensure that your products are created according to your specifications and that they are delivered on time.
You can also be confident that American B2​B manufacturers will use high-quality materials to create your products, as they are regulated by the American government. This is important because it means that your products will last longer and be more durable.
8. Economy
Finally, supporting American companies is an important part of being a responsible business owner. When you outsource your manufacturing to another country, you are taking away jobs from Americans.
This can have a negative impact on the economy and may make it more difficult for American citizens to find work.
By working with an American B​2B manufacturer, you can be confident that you are supporting the American economy, and creating jobs for your neighbors and friends.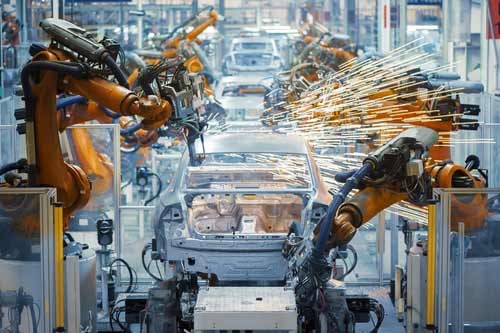 Work With RCO Engineering: American B2B Manufacturing At Its Finest
RCO Engineering is proud to be owned and operated on American soil. We understand the importance of supporting the American industry, which is why we are committed to providing our clients with the highest quality products and services possible.
If you're looking for a B2B manufacturing partner that you can trust, look no further than RCO Engineering. Contact us today to learn more about what we can do for you.​